White Box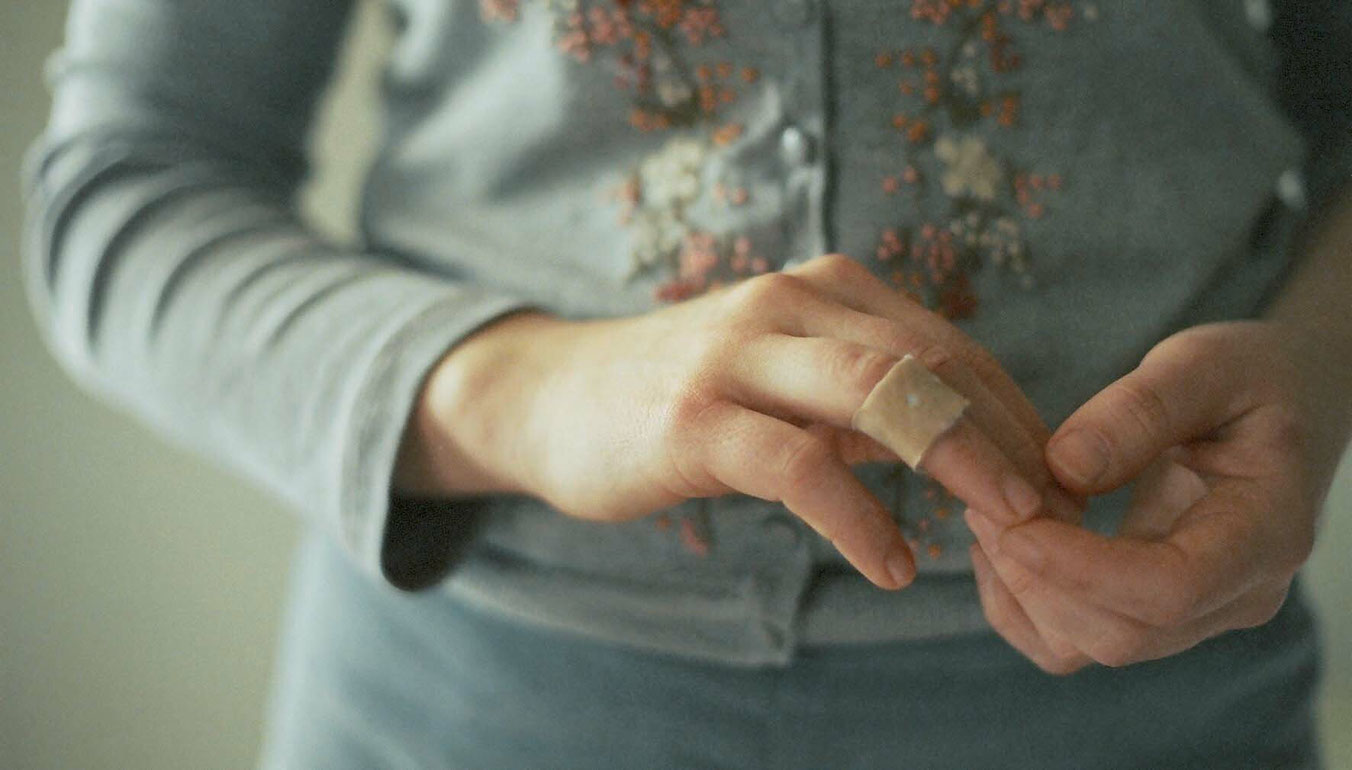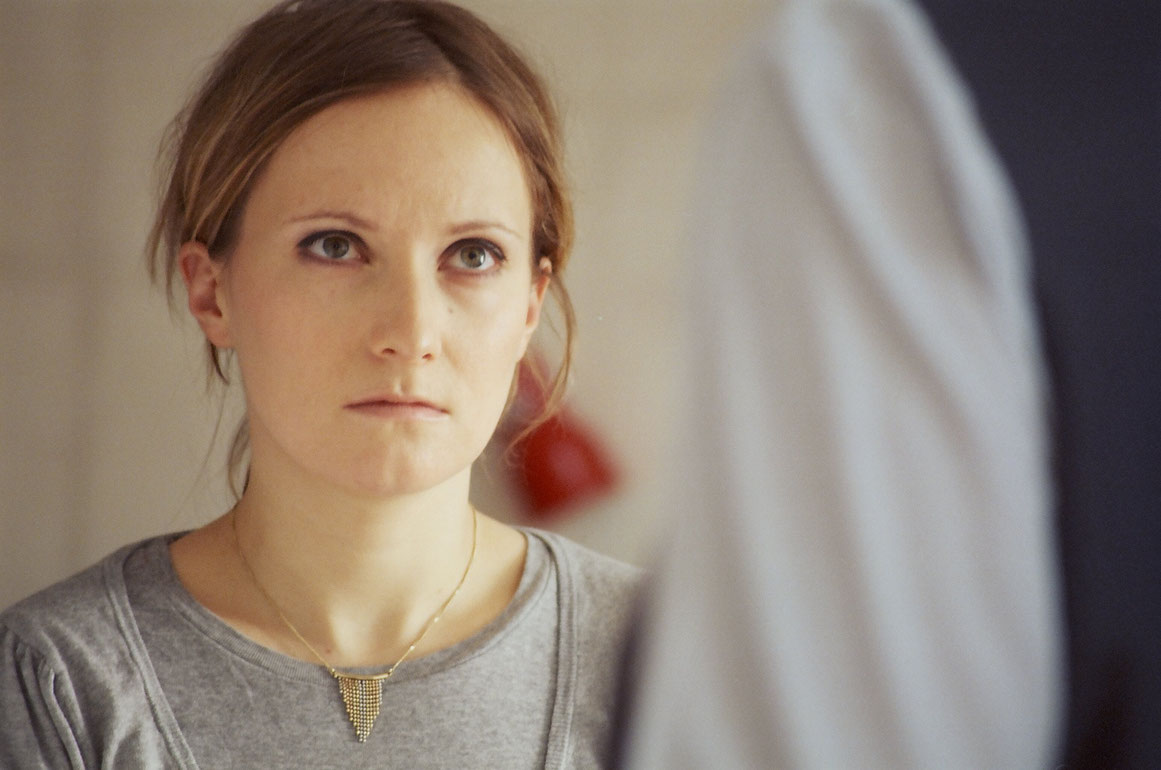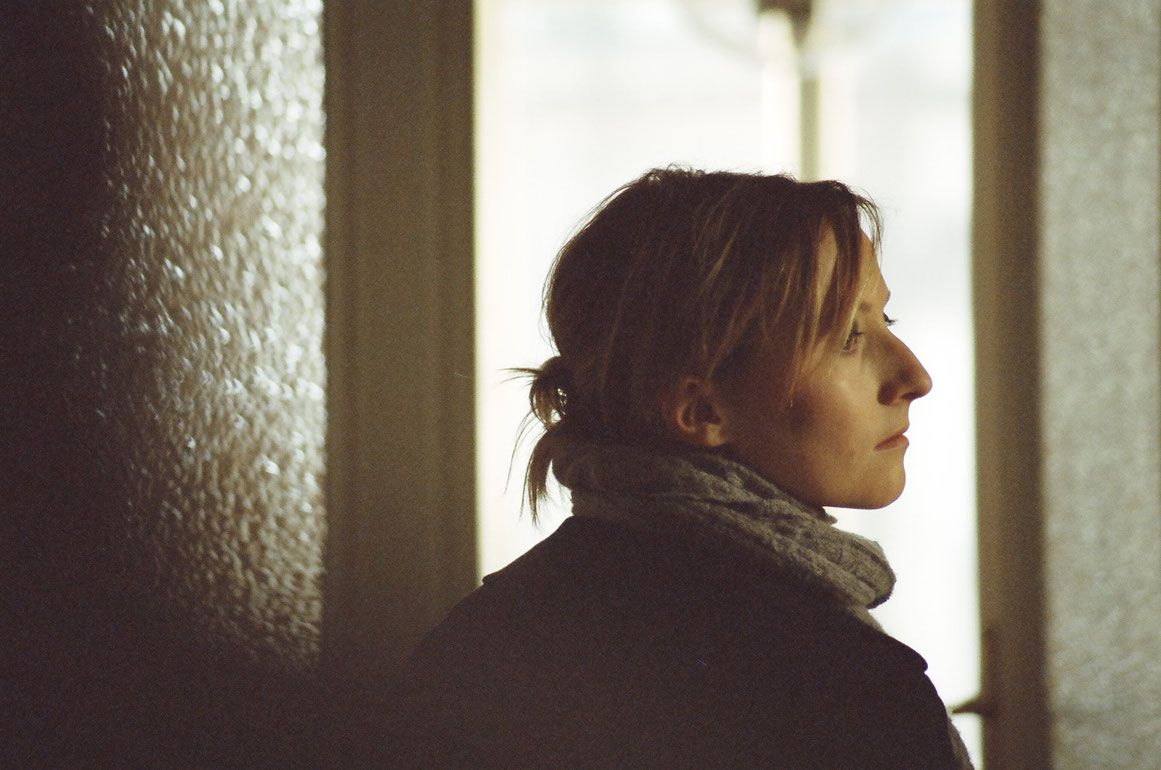 Iris, a 28-year-old student in a big city, recently left by her boyfriend and too poor to pay her rent, begins to work for a strange older man. He wants Iris to precisely describe the trivial belongings of a dead woman, packed in white boxes, to keep the memory of the woman alive. Iris is disgusted and fascinated at the same time; reflecting on an unvisible person´s traces, she slowly becomes aware of her own wounds.

(production note)
More Texts
Dialogliste WHITE BOX Deutsch
Sz 1 / Iris' Zimmer

STEVEN
Du hast überhaupt keine Schwächen, Iris.
Nein, ehrlich, bist ein guter Mensch – und ich bin das Arschloch.
Ich schau mir selbst beim Leben zu, wie in einem Film, weißt du.
Ich kann dem Bild von mir nicht untreu werden, ich…
Beziehungen, die irgendwann zur Routine werden, das ist so… banal.
Ich will einfach nicht von mir selbst gelangweilt sein.

IRIS
Also du kommst nie mehr.

STEVEN
Du musst nicht so dramatisch sein. Wir werden uns schon sehen.

IRIS
Nein.

STEVEN
Willst nicht mal nen Kaffee mit mir trinken?

IRIS
Aber geliebt hast du mich nie, oder?

STEVEN
Ich hab dich immer geliebt. Ich lieb dich nur nicht so, wie du willst.


Sz 3 / Bahnsteig

SCHAFFNER
Zug fährt ab.


Sz 4 / Bibliothek

IRIS (liest im Off aus dem Buch, hier nicht zu hören)
Für Unglückliche ist es besser, in der Stadt zu leben.
… und konnte mir lange nicht erklären, was es war. Dieses Etwas war nichts anderes, als dass ich beim Gang durchs Vorzimmer einen Gegenstand bemerkte, der mich an ihn erinnerte.


Sz 5 / Gang Universität

ZETTEL
Gesucht: Assistent für Forschungsprojekt. Literaturstudent bevorzugt. Bei Interesse rufen Sie an.


Sz 6 / Laden

VERKÄUFERIN
7, 85 bitte.

IRIS
Das Brot lass ich da.


Sz 7 / Straße

Telefoat im Off, hier nicht zu hören!

HERR MORGEN
Ja, bitte?

IRIS
Ich ruf wegen Ihrem Zettel an, auf der Uni.
Suchen Sie noch jemanden?
Hallo?

HERR MORGEN
Sagen Sie bitte noch etwas.

IRIS
Was denn? Warum?

HERR MORGEN
Bitte, sprechen Sie einfach.

IRIS
Entschuldigung, hab ich mich verwählt?

HERR MORGEN
Nein nein, Sie sind richtig bei mir.

IRIS
Worum geht es denn bei Ihrem… Projekt?

HERR MORGEN
Kommen Sie einfach vorbei, ich geb Ihnen meine Adresse.


Sz 8 / Iris' Wohnung

ZAHLSCHEIN
Miete!!!


Sz 9 / bei Herrn Morgen

HERR MORGEN
Wie heißen Sie?

IRIS
… Ingrid. … Sommer.

HERR M.
Ich liebe diese Stelle in "Außer Atem" ("Breathless"), in der diese Schauspielerin sagt: "Ich mag meinen Namen nicht, ich möchte lieber Ingrid heißen!"

IRIS
Mögen Sie Filme?

HERR M.
Sie müssen hier drücken.

STIMME AM TONBAND
Es ist ein weißes Leintuch für ein Einzelbett. Das Wäscheetikett ist stark ausgeblichen, aber noch lesbar. Das Leintuch besteht zu 100 % aus Baumwolle, die bei 90° gewaschen werden darf. Das viele Waschen hat das Leintuch dünn gemacht, an einigen Stellen ist es fast schon durchsichtig. An anderen Stellen, vermehrt in der Mitte, weist es verschiedene, sehr kleine Flecken auf. Die meisten davon sind fast unsichtbar, nur die Ränder kann man erkennen.

HERR M.
Ich brauche Sie – jemanden wie Sie – , der unvoreingenommen auf diese Gegenstände reagiert. Ich bezahle 60 für jede Beschreibung.

IRIS
Und muss ich auch flüstern?

HERR M.
Das ist doch ganz wesentlich. Das Geflüstere hat keinen Charakter. Es ist… anonym. Verstehen Sie?

IRIS
Nein.

HERR M.
Diese Dinge tragen einen Stempel. Den Abdruck eines lebendigen, warmen Körpers auf die Welt. Diese Dinge sind stumm, aber nicht tot. Ich meine, dass sie bei genauem Hinsehen anfangen, sich zu bewegen.

Erst öffnen, wenn Sie zu Hause sind.


Sz 11 / Iris' Zimmer

IRIS (off)
Es ist ein linker Handschuh aus weißer Wolle. Die Spitze des Zeigefingers ist dunkel verfärbt, als wäre die Besitzerin damit über eine schmutzige Oberfläche gefahren. Sie war wahrscheinlich Linkshänderin – eine Frau, die mit der Hand über ein Geländer in der U-Bahn-Station streicht.



Sz 12 / U-Bahn

IRIS (off)
Der Handschuh wurde zu heiß gewaschen, wodurch er eingegangen und die Wolle verfilzt worden ist. Er fühlt sich steif an, so als würde er sich weigern, je wieder die Form einer anderen Hand anzunehmen.


Sz 13 / bei Herrn Morgen

HERR M.
Sie haben ein wichtiges Kennzeichen vergessen. Den Geruch.

IRIS
Wollen Sie sich an den Geruch der Frau erinnern?

HERR M.
Sie haben ein Muttermal. Verzeihen Sie, wenn ich das sage, aber… ich habe solche Makel immer ergreifend gefunden.

IRIS
Sie wollen mir nichts erzählen, oder? Über die Frau, meine ich.

HERR M.
Ich glaube, Sie haben das Wesen Ihrer Arbeit nicht verstanden. Ich brauche Sie gerade, weil Sie nichts wissen. Kenntnisse über sie würden Sie doch nur von der Arbeit ablenken. Sagen wir zum Beispiel, ihr Name war… Elfriede Wächter. Sie ist an Leukämie verstorben. Was würden Sie dann sehen?
Oder… sagen wir… dass sie… Iris geheißen hat. Sie ist hier in diesem Haus ermordert worden. Die Bilder in Ihrem Kopf würden den Gegenstand vor Ihren Augen verändern, verdrängen.


Sz 14 / Iris' Zimmer

IRIS SCHREIBT:
Hautgeruch#

IRIS (off)
Es ist ein Schwämmchen zum Auftragen von Make-up, etwa in der Größe von einem Ohr. Es riecht nach… Haut, wie ungewaschene Kleidung. Auch seine Farbe ist wie die von menschlicher Haut. Es ist häufig benutzt worden, die Oberfläche ist verschmiert mit Schminke und Schuppen. Die Besitzerin hätte es längst wegwerfen sollen.


Sz 15 / vor Herr Morgens Wohnung

STIMMEN (off, undeutlich)
Es ist ein Schlüssel… ein einzelner Haargummi… ein gelber Kugelschreiber… es ist aus Plastik… es ist ein kleiner, weißer Becher… Halbedelsteine… sehr klein… nur ein Stück…

HERR M.
Ach, Sie… Entschuldigung, ich muss wohl geschlafen haben. Legen Sie da ab.


Sz 16 / bei Herrn Morgen

HERR M.
Ich hab mich auf Ihren Besuch gefreut, Sie sind ein Lichtblick.

IRIS
Danke.

HERR M.
Sie haben mit einem schwierigen Gegenstand gute Arbeit geleistet.

IRIS
Finden Sie?

HERR M.
Gerade solche Objekte sind verräterisch.

IRIS
Woher haben Sie es?

HERR M.
Sie hat es dagelassen.

IRIS
Sie war Ihre Freundin, oder?

HERR M.
Sie können es einfach nicht lassen. Sie sterben ja geradezu vor Neugierde. Aber wie soll es bei einer intelligenten jungen Frau anders sein?
Ich werde Ihnen jetzt erzählen, wie es wirklich war. Sie wurde umgebracht. Hier, im Stiegenhaus.

IRIS
Und ihr Name war Iris.

HERR M.
Das hab ich erfunden.

IRIS
Warum?

HERR M.
Um Ihnen eine Geschichte zu erzählen. Um sie zu unterhalten. Damit Sie wiederkommen.
Wissen Sie… ich kann mich nicht einmal an ihr Gesicht erinnern.


Sz 18 / in der leeren Wohnung

MAKLERIN
Ah, Sie sind ja noch da!
Mit der Provision kann ich wirklich nicht runtergehen.
Überhaupt, das Viertel ist absolut im Kommen – in 6 Monaten kostet der Quadratmeter das Anderthalbfache.

IRIS
Ich hab gehört, dass in diesem Haus jemand ermordert worden ist.

MAKLERIN
Das war vor 3 Jahren. Seitdem ist nichts Derartiges mehr passiert.

IRIS
Und war das in dieser Wohnung?

MAKLERIN
Aber nein. Im Stiegenhaus.

IRIS
Und wissen Sie, ob der Vorname von der Frau Iris war?

MAKLERIN
Fräulein… Ihr Name war Elfriede Wächter. Ist ja in allen Zeitungen gestanden.

IRIS
Und war das ihre Wohnung?

MAKLERIN
Um Gottes Willen, nein. Was ich weiß, hat sie bei einem Mann gewohnt, weiter oben. Also mit dieser Wohnung hat das gar nichts zu tun.

IRIS
Glauben Sie, dass er es war?


Sz 23 / Iris' Wohnung

IRIS
Der Spiegel ist ein zugleich volles und leeres Ding, auf der einen Seite mit Bildern angefüllt, auf der anderen leer. Seine Oberfläche ist glatt und unzerkratzt. Er ist rahmenlos, die Kanten etwas scharf. Er muss einmal einen Rahmen gehabt haben, etwas um ihn festzuhalten und zu schützen.


Sz 24 / Stiegenhaus, dann bei Herrn Morgen

IRIS (off)
Er ist zu klein, um ein ganzes Gesicht darin sehen zu können. Er zeigt nur Bruchteile der Person, die ihn hält. Und ein Spiegel ist ja eigentlich nicht mehr als das, was er wiedergibt.

Elfriede Wächter war eitel. Sie hat einen Spiegel und Schminke mit sich herumgetragen. Sie war kein praktischer Mensch, ein praktischer Mensch trägt dunkle Handschuhe. Sie ist an einem 4. November ermordet worden, in der Früh. Diese Dinge sind tatsächlich nicht tot.

HERR MORGEN
Was verstehen Sie denn nicht an Ihrer Aufgabe? Sind Sie unterfordert?

IRIS
Was meinen Sie denn damit?

HERR MORGEN
Diese… Geschichte, die Sie da erfinden.

IRIS
Sie können mir doch einfach sagen, dass Sie sie nicht umgebracht haben.

HERR MORGEN
Diesmal hab ich etwas Besonderes für Sie.
Ich habe kein Bargeld, Sie nehmen doch einen Scheck.
Wie war noch ihr Name? Ingrid… Ingrid Sommer.

INGRID
Hab ich recht gehabt? Können Sie sich jetzt erinnern?


Sz 25 / an der Tür

HERR M.
Ingrid – bevor Sie gehen… wäre es möglich, dass Sie etwas von sich dalassen?

IRIS
Nein.

HERR M.
Warum nicht?

IRIS
Nein!

HERR M.
Eine Kleinigkeit, irgendetwas.


Sz 26 / Straße

STIMME VOM TONBAND
Der Radiergummi ist 3,6 cm lang und 1,7 cm breit.
Er ist rot und blau. Die rote Seite ist weicher und wurde häufiger benutzt als die gröbere blaue Seite.
Sein Geruch beschwört die Erinnerung an Klassenzimmer oder Hörsäle herauf.
Seine Besitzerin muss Schülerin oder Studentin sein und den Gebrauch von Bleistiften dem von Kugelschreibern vorziehen.
Dass der Radiergummi alt und außerdem altmodisch wirkt, lässt den Schluss zu, dass seine Besitzerin ungern etwas wegwirft und sich schlecht von Gewohntem lösen kann.













Dialogue List White Box
Scene 1 / Iris' room

STEVEN
You don't have any weaknesses, Iris.
No, honestly, you are a good person – and I am the asshole.
I watch myself living, like in a movie you know.
I can't be unfaithful to that image of myself, I…
Relationships that become routine, that's so… banal.
I just don't want to be bored by myself.

IRIS
So you'll never come back.

STEVEN
There's no need to be so dramatic. We will see each other again.

IRIS
No.

STEVEN
You don't even want to go for a coffee with me?

IRIS
You've never loved me, have you?

STEVEN
I've always loved you. I just don't love you the way you want me to.


Scene 3 / platform

CONDUCTOR
This train is leaving.


Scene 4 / library

IRIS
For unhappy people it is better to live in the city.
…and for a long time I could not explain what it was. This something was nothing else but that, when I walked through the hallway, I noticed an object that reminded me of him.


Scene 5 / corridor at university

NOTE
Wanted: assistant for research project. Literature student preferred. Call if interested.


Scene 6 / shop

CASHIER
7.85 please.

IRIS
I won't take the bread.


Scene 7 / street

MR MORGEN
Yes?

IRIS
I am calling about your advert at the university.
Are you still looking for someone?
Hello?

MR MORGEN
Say something else, please.

IRIS
What should I say? Why?

MR MORGEN
Please, just talk.

IRIS
Sorry, have I dialled the wrong number?

MR MORGEN
No, no, you have got the right person.

IRIS
What is it about, your… project?

MR MORGEN
Just come by, I will give you my address.


Scene 8 / Iris apartment

PAYMENT DEMAND
Rent!!!


Scene 9 / Mr Morgen's apartment

MR MORGEN
What is your name?

IRIS
… Ingrid… Sommer.

MR MORGEN
I love that scene in "Breathless" where this actress says: "I don't like my name, I prefer being called Ingrid!"

IRIS
Do you like films?

MR MORGEN
You have to press that.

VOICE ON THE TAPE
It is a white sheet for a single bed. The label is very faded but still legible. The sheet is 100% cotton, which may be washed at 90°. The repeated washing has thinned the sheet, some parts are almost see-through. Other areas, mainly in the middle, show several very small stains. Most of them are almost invisible, only the edges can be made out.

MR MORGEN
I need you – someone like you - who reacts to those objects without preconceptions. I will pay 60 for each description.

IRIS
And do I also have to whisper?

MR MORGEN
That is essential, of course. Whispering has no personality. It is… anonymous. Do you understand?

IRIS
No.

MR MORGEN
These things carry a stamp. A living, warm body's imprint on the world. These things are silent but not dead. I mean, on closer observation they start to move.

Only open it once you are home.


Scene 11 / Iris' room

IRIS (off)
It is a left glove made from white wool. The tip of the index finger has turned a darker colour as if the owner had run over a dirty surface with it. She probably was left-handed – a woman who brushes over the banisters in an underground station with her left hand.


Scene 12 / underground train

IRIS (off)
The glove has been washed at too high a temperature which made it shrink and made the wool felt. It feels stiff, as if it is refusing to take the shape of any other hand ever again.


Scene 13 / at Mr Morgen's

MR MORGEN
You forgot an important characteristic. The smell.

IRIS
Do you want to remember the smell of the woman?

MR MORGEN
You have a birthmark. Forgive me if I say that, but… I have always found such blemishes deeply moving.

IRIS
You don't want to tell me anything, do you? I mean, about the woman.

MR MORGEN
I don't think you have understood the nature of your task. I need you because you don't know anything. Any knowledge of her would only distract you from the work. Lets say for example her name was … Elfriede Wächter. She died of leukaemia. What would you see then?
Or… say… that… her name was Iris. She was killed in this house. The images in your head would change the object in front of you, would replace it.


Scene 14 / Iris' room

IRIS WRITES:
Smell of skin#

IRIS (off)
It is a little sponge to apply make-up, about the size of an ear. It smells of… skin, like unwashed clothes. Its colour is also like that of human skin. It has been used many times, the surface is smudged with make-up and skin flakes. The owner should have thrown it away a long time ago.


Scene 15 / in front of Mr Morgen's apartment

VOICES (off, not clearly audible)
It is a key… a single hair band…a yellow pen… it's made from plastic… it is a small white cup… semi-precious stones… very small… only one piece…

MR MORGEN
Oh, it's you… I am sorry, I must have been asleep. Put your coat there.


Scene 16 / Mr Morgen's apartment

MR MORGEN
I have been looking forward to your visit, you brighten up my day.

IRIS
Thank you.

MR MORGEN
You have done great work with a very difficult item.

IRIS
You think so?

MR MORGEN
Objects like this are particularly revealing.

IRIS
Where did you get it from?

MR MORGEN
She left it here.

IRIS
She was your girlfriend, no?

MR MORGEN
You just can't stop it, can you. You are almost dying with curiosity. But why should an intelligent young woman react any differently?
I will tell you now what really happened. She was killed. Here, on the staircase.

IRIS
And her name was Iris.

MR MORGEN
That I invented.

IRIS
Why?

MR MORGEN
To tell you a story. To entertain you. So you would come again. You know… I can't even remember her face.


Scene 18 / in the empty apartment

ESTATE AGENT
Oh, you are still here!
I really can't reduce the commission.
Anyway, this area is up and coming – in 6 months time a square meter will cost one and a half times as much.

IRIS
I heard that someone was killed in this house?

ESTATE AGENT
That was 3 years ago. Nothing like that has happened since.

IRIS
And did it happen in this flat?

ESTATE AGENT
Oh no. On the staircase.

IRIS
And do you know if the woman's name was Iris?

ESTATE AGENT
Miss… Her name was Elfriede Wächter. It was in all the newspapers.

IRIS
And was this her apartment?

ESTATE AGENT
Oh god, no. As far as I know she was living with a man, on a floor above. It has nothing to do with this apartment at all.

IRIS
Do you think it was him?


Scene 23 / Iris' apartment

IRIS
The mirror is at the same time as full as it is empty, on one side filled with pictures, empty on the other. Its surface is smooth and unscratched. It is frameless, the edges are slightly sharp. It must have had a frame once, to hold it in and protect it.


Scene 24 / staircase, then in Mr Morgen's apartment

IRIS (off)
It is too small to see a whole face in it. It only shows a fraction of the person holding it. And a mirror is really no more than what it reflects.

Elfriede Wächter was vain. She carried a mirror and make-up around with her. She was not a practical person, a practical person wears dark gloves. She was killed on November 4, in the morning. It is true, these things are not dead.

MR MORGEN
What is it you don't understand with this assignment? Is it not a big enough challenge for you?

IRIS
What do you mean?

MR MORGEN
This… story you are inventing.

IRIS
But you could just tell me that you didn't kill her.

MR MORGEN
This time I have something special for you.
I have no cash, will you take a cheque?
What was your name again? Ingrid… Ingrid Sommer.

INGRID
Was I right? Can you remember now?


Scene 25 / at the door

MR MORGEN
Ingrid – before you go… would it be possible to leave something of yours here?

IRIS
No.

MR MORGEN
Why not?

IRIS
No!

MR MORGEN
Something small, anything.


Scene 26 / street

VOICE ON THE TAPE
The eraser is 3.6 cm long and 1.7 cm wide.
It is red and blue. The red side is softer and has been used more often than the rougher blue side.
Its smell evokes the memory of classrooms and lecture theatres.
Its owner must be a school or university student and probably prefers using pencils to pens.
The fact that the eraser seems old and also old fashioned leads to the conclusion, that its owner does not like throwing away things and finds it difficult to let go of old habits.

Orig. Title
White Box
Year
2006
Country
Austria
Duration
27 min
Category
Short fiction
Orig. Language
German
Subtitles
English