So we do sometimes think because it has been found to pay. Wittgenstein´s House.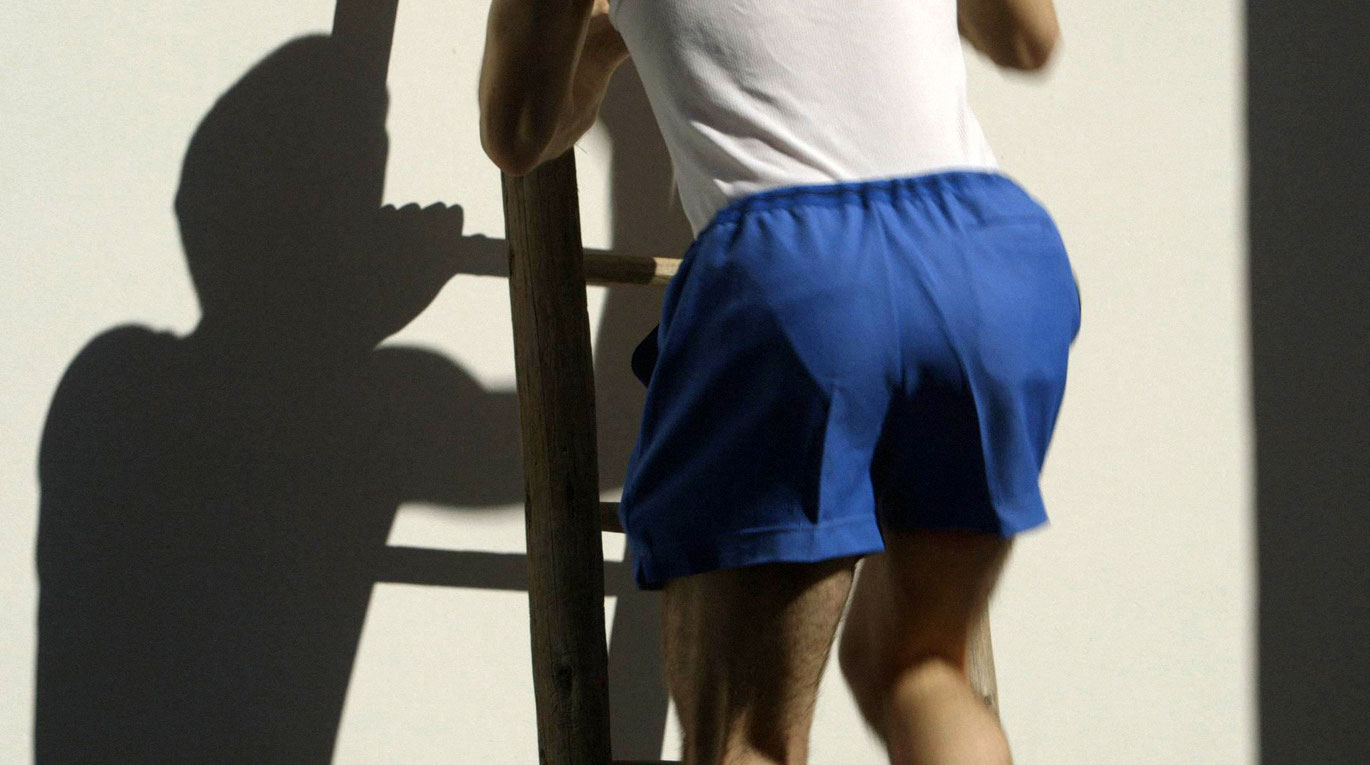 Trusting beams of sunlight seem to shimmer in the tremulously precious black and white grain – the lines of each image are mindfully composed from the very start, while So we do sometimes think because it has been found to pay. Wittgenstein´s House. seeps into the darkness of the viewer´s consciousness. But soon color breaks in, the view expands, the footage changes and everything becomes too sharp. Analog subtly conceals, while digital brusquely reveals. The transition is accompanied by the arrival of a person and the disappearance of calm.

That man in the suit wears a searching look, but little surprises him: neither the jogger in a sleeveless undershirt peering through the window nor the somewhat wistful, outer-office administrative receptionist-type immersed in an experiment of sorting lenses – nor even a research assistant listening to the sizzling glass bottoms of her petri dishes. The design of the film´s German title transmits the prevalence of a most rigorous order, initially revealing all the ´a´s, then the ´b´ and then the ´c´s; this order is further underscored by the mise-en-scene and the calculated movements of the models – in the Bressonian sense of the word – and how they downright stubbornly execute various phases and rituals. But excuse me, what order exactly?

At the beginning of the obstacle course, simple binary connections can be drawn between these and other elements (i.e. black and white footage and the sorting of black and white lenses...); but with the fifth of seven stations, things start to get increasingly constructive: Where rigor and science had previously prevailed, it is now about sensory stimulation. Yet meanwhile the subtle clarity of the house and the lines of its design remain consistent. Man keeps to his idiosyncratic stupidity, but in the end there is a calm: a peace that is distinct from that of nature, yet compatible. (Olaf Möller)

Translation: Eve Heller

Wittgenstein´s villa. A visitor leads through the building and encounters characters who are involved in strange activities: scenes that can be interpreted as stagings of Wittgenstein´s aphorisms. The philosopher´s conceptual world thus meets the architectural reality of the house he helped design — and enters into a relationship that, in turn, opens up new conceptual spaces.
Orig. Title
Manchmal also denkt man, weil es sich bewährt hat. Wittgensteins Haus.
Year
2016
Country
Austria
Duration
20 min
Category
experimental
Orig. Language
no dialogue