39/81 Which way to CA?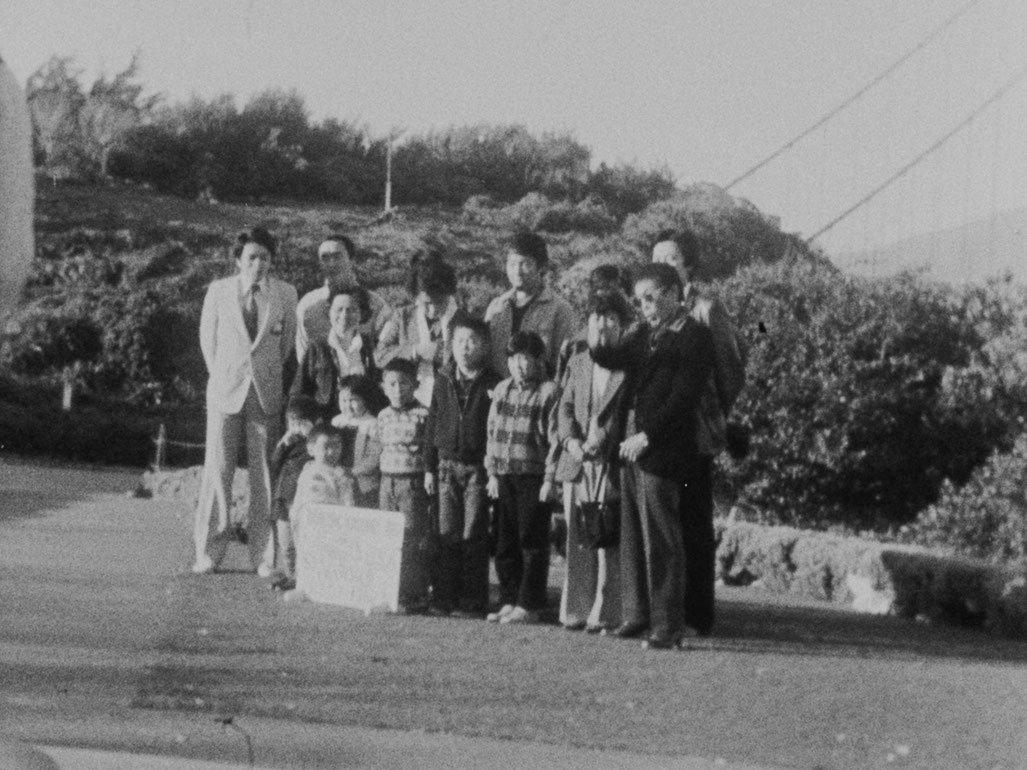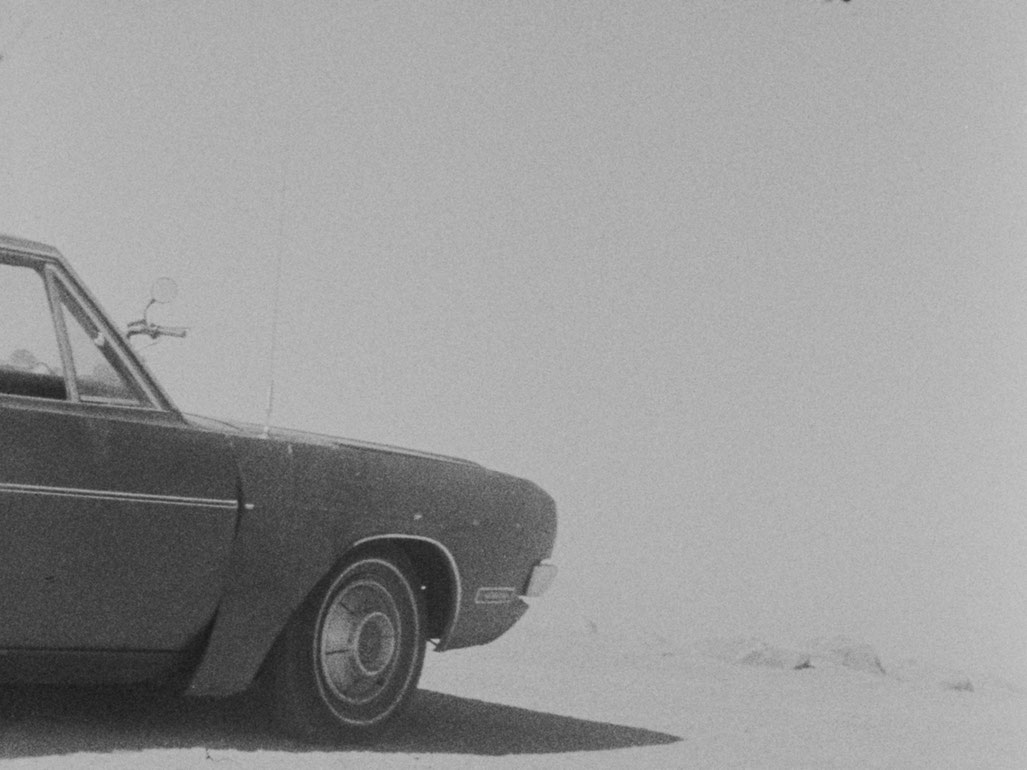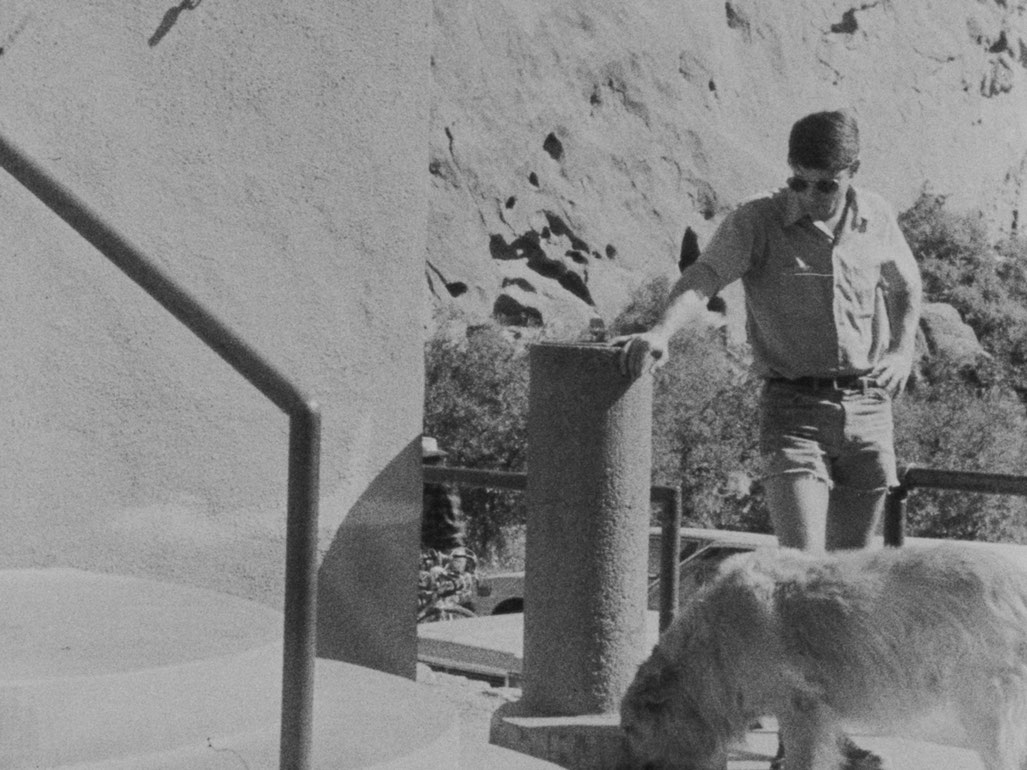 Kren on his way from Vermont to California. Kren says that his various cars are the thread which runs through the story.
(Hans Scheugl)
Kren´s most recent films are more diaristic than any of his previous films. 39/81 Which Way to CA? (3 min.), 40/81 Breakfast im Grauen (3 min.), and 41/82 Getting Warm (3 min.) are all composed of home movie footage, edited to articulate certain relationships among the images. Now that home movies are no longer made at home (post-video), a home movie style can be abstracted for use. Which Way to CA? reflects a tourist´s view, which is perhaps the only view anyone of European descent can have of California, having arrived here only recently (10 minutes, 200 years) from somewhere else. The film begins with freeways and cemeteries under freeways. Someone with a camera in one hand checks his watch - an allusion to Kren´s systemic timing techniques, absent here. Then come generic baby pictures; bouncing baby, baby mugging for the camera, changing after shitting, Santa Claus. Japanese tourists are frozen forever, anonymous and calm under the Golden Gate Bridge, the ultimate Camera Culture. Other unidentified monuments. The film is laced with surrogate self-portraits, involving a ´68 Chevy Bel Air: Chevy with Seagull, Chevy at the Beach, at Valley Ford Market, at Jensen´s Oyster Bar. See the USA in your Chevrolet. There are some places one just can´t get to on public transportation.
These ordinary images are combined in ways that cause us to question their value as representation. How is the baby different from the ´68 Chevy or the Japanese tourists? Within the reconstituted home movie frame, these subjects are reduced to generalized signs. The process is ironic in that the original intention of recording these images was to remember specific events and individuals. Through what processes do they lose their identity? What new significance do they acquire?
(David Levi Strauss, "Notes on Kren: Cutting Through Structural Materialism or, "Sorry. It had to be done."," in: Cinematograph I, San Francisco 1985)
More Texts
Michael Palm zu 39/81 Which way to CA? von Kurt Kren
In bezug auf die Klärung, was in Krens Filmen dokumentarisch ist, soll weiters der Begriff "bad home movie" dienen, den Kren für seine amerikanischen Arbeiten ab
39/81 Which way to CA?
geprägt hat. Signifikant ist an diesen Filmen, daß wir mit einer Vielzahl von Blickpunkten konfrontiert werden, die aber in keiner Topographie zu verzeichnen sind. Scheinbar orts- und zeitlos existieren diese Bilder in seltsamer Autarkie.
Der Vergleich mit einem Idealtypus von "home movie" hilft weiter. Der ideale Hobby- und Reisefilmer findet in seinen Filmen immer nur die Bilder, die schon wasserdicht und determiniert sind, die gewissermaßen allen und jedem gehören. Vom Eiffelturm bis zum Goldenen Dachl haben wir sie bis zum Erbrechen gesehen. So zeigen diese Bilder eigentlich nie die jeweiligen Sehenswürdigkeiten, sondern dokumentieren lediglich ein Dortgewesensein. Sie entstehen, um sich danach am Dortgewesensein zu erfeuen. Und doch sind sie auch ein verzweifelter, wiewohl an der Sache prinzipiell desinteressierter Versuch, dem öffentlichen Bild ein Quentchen Privatheit zu entreißen.
Doch Krens Arbeiten sind eben "schlechte home movies". Sie verweisen nicht auf ein Dort, sondern auf ein Hier und Jetzt. Sie sind im besten Sinne unordentlich. Sie gehören niemandem. Die Gleichwertigkeit, die im vorigen Abschnitt noch die Bildfläche regierte, läßt sich nun verzeitlichen und auf die Abfolge der Bilder umlegen. So wird man nur schwerlich privilegierte Stationen auf dem Weg der Bilder ausmachen können. Die Reise hat kein Ende, sie besteht nur aus momentanen Lageveränderungen.
In Which way to CA? sind es flüchtige Momente am Straßenrand, die Kren im Lauf der Zeit aufleuchten läßt. Schmutzige Bilder eines Friedhofs, eine Mutter mit Kind, ein Weihnachtsmann im sommerlichen Licht, der aus dem Nichts auftaucht, um gleich darauf wieder dorthin zu entschwinden, Leute beim Photographieren und Filmen, ein Familienidyll, Fernsehbilder - Amerika halt. Als stets wiederkehrendes Thema montiert Kren immer wieder das Auto ein, mit dem er durch die Lande zieht: das leere, stehende Gefährt als Gefährte vor diversen Landschaften, am Meer, eine Möwe, die das Auto verwundert begutachtet, eine wilde Brandung.
(Michael Palm: Which Way?, Drei Pfade durchs Bild-Gebüsch von Kurt Kren, in: Hans Scheugl (Hrsg.), Ex Underground Kurt Kren. Seine Filme, Wien 1996)

Category
Avantgarde/Arts
Orig. Language
No Dialogue