Astrid Johanna Ofner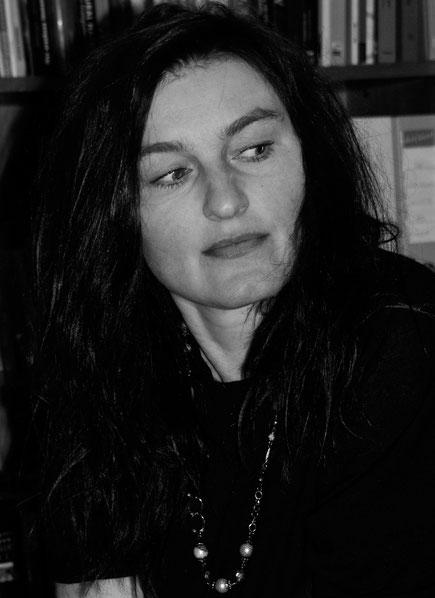 * 1968, Austria

Born in 1968 in Linz, Astrid Johanna Ofner studied philosophy at Sorbonne Nouvelle III, then film directing and photography at the Vienna Film Academy. She also completed film directing studies at the Deutsche Film- und Fernsehakademie Berlin (dffb). She worked as an actress at Schaubühne Berlin and had the title role in Antigone (1991) by Jean-Marie Straub and Danièle Huillet.
Films: SAVANNAH BAY (1990), INS LEERE (1993), NOW AND ALL TIME (1994), TELL ME ON TUESDAY (2007), FAREWELL (2017), BEACHES (2019).
More Texts
Bibl. Ofner Astrid (Bibliography)
Alexander Horwath, "Junge Talente und radikale Veteranen", in: Der Standard, 23.10.1989 Wien. Christa Blümlinger, "Wohin mit der Wirklichkeit im Film?", in: blimp 26/1993 Graz. Heidemarie Klabacher, "Faszination des Geschlossenen und der strengen Regeln", in: Salzburger Nachrichten, 6.12.1993 Salzburg. Ilse Retzek, "Streng gehaltene Frauen", in: OÖ Nachrichten, 6.12.1993 Linz. Robert Weixlbaumer, "Drei Schritte vor, einer zurück", in: Die Presse, 9.12.1993 Wien. Claus Philipp, "Mit einigen Denkwürdigkeiten ins Leere", in: Der Standard, 9.12.1993 Wien. Roland Rust, "Zwischen Aura und Ambition", in Filmdienst 1/1994. R.S., "Now and All Time", in: Catalogue, Melbourne Int. Film Festival 1994. Renzo Fegatelli, "Ecco la giornata tipo del sassofono soprano", in: La Repubblica, Juni 1994. Wolfgang Borgfeld, "Wehmütiger Blick zurück", in: Kameramann, 20.5.1994 München. Kurt Hoffmann, ",Jetzt und alle Zeit'/,Ins Leere'", in: Filmfolder 4/1994. Bert Rebhandl, "Filmische Seelenlehre mit Brevier und Peitsche", in: Der Standard, 20.9.1994 Wien. Stefan Grissemann, "Das Allgemeine. Das Besondere", in: Die Presse, 24.9.1994 Wien. Brigitte Mayr, "Auf den Knien", in: Falter 38/1994 Wien. Elisabeth Büttner/Christian Dewald, "Indirektes Plädoyer für ein unzeitgemäßes Kino", Essay und Interview, in: Peter Illetschko (Hrsg.), Gegenschuß. 16 Regisseure aus Österreich, Wien 1995.