Daniela Gutmann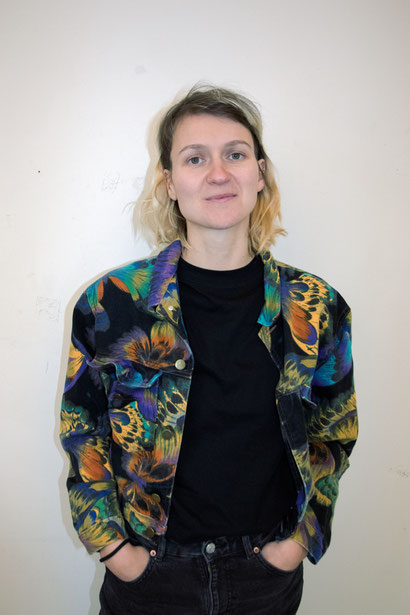 Foto: Aurelia Semperboni
* 1991
Daniela Gutmann (*1991, Styria) lives and works in Linz, Upper Austria.

Gutmann works primarily in the fields of video art, experimental film, performance, photography and sound. Her interest lies in the tension between physical, real conditions, sensual perception and its alienation.

In 2020 Daniela Gutmann graduated with a bachelor's degree in Fine Arts at the University of Arts, Linz. She studied Intermedia and Sculpture, at the Academy of Fine Arts Gdansk, PL (2020). In 2018 she participated in the SNDO (School for new dance development) Intensive Course at the Amsterdamse Hoogeschool voor de Kunsten, NL.

Currently she is studying in the Masters program Sculptural Conceptions/Ceramics at the University of Arts, Linz. Her works have been shown at the Neue Galerie Graz, bb15 - Raum für Gegenwartskunst, OÖ Kunstverein, Schaumbad Graz, WHA-Galerie Linz, Filmmuseum Wien, Ars Electronica Center Linz, as well at Soulangh Cultural Park Tainan and other places.
Film/Videography (selection)
shifting bodies to fluid fiction, Super 8 (digitalized), b/w, no audio, 3.22 min, 2023
EGOMANY One-channel-video, color, stereo, 13.14 min, 2021
too busy One-channel-video, color, stereo, 2.50 min, 2021
DIVE DOWN Two-channel video installation, color, stereo, 2.20 min (loop), 2020
STÖRFAKTOR 16mm film (found footage, color, loop), in combination with performance, 30 min, 2019
Nola Ricar One-channel video, color, stereo, 12.24 min, 2019
Mit dem Essen spielt man nicht Video installation, color, no audio, 9 min (loop), peep box, 2019
fragments of something fluttering One-channel video, color, no audio, 11.02 min, 2019