Mara Mattuschka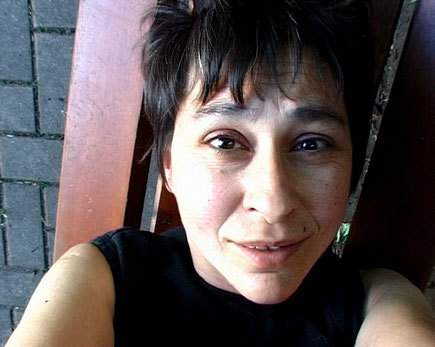 Mara Mattuschka is an award-winning filmmaker, actress, and visual artist of Bulgarian origin (*1959). She studied Ethnology and Linguistics at the University of Vienna from 1977 to 1983. In 1990, she graduated from the University of Applied Arts Vienna, majoring in the subjects of Painting and Animated Film in Maria Lassning´s master class. Mattuschka lectured at the Braunschweig College of Fine Arts from 1994 to 2001. In 2005, she received the Republic of Austria´s honorary prize for film art. Mara Mattuschka´s extensive work has been shown at numerous exhibitions and international festivals. Mattuschka works and lives in Vienna.
More Texts
Bibl. Mattuschka Mara (Bibliography)
Richard Weinberger (=Hans Christian Leitich), "Phönix aus der Asche", in: Filmlogbuch 2/1985. Evita Stussak, "Méliès' Erben in Wels", in: Forum 381/382/383/1985. Birgit Hein, "Mara Mattuschka", in: Die Schatten im Silber, Katalog, Mus.d.20.Jh. Wien 1987. Birgit Hein, "Mara Mattuschka", in: epd Film 3/1988. Alexander Horwath, "Sonnenstürmer und Sternsinger", in: Der Standard, 23./24.9.1989 Wein. Georg Schöllhammer, "Die Schwerkraft der Worte zeigen", in: Der Standard, 19.10.1989 Wien. Claudia Preschl, "Das Kichern der Mimi Minus", in: Frauen und Film, 46/1989. Michael Omasta, "So eine Art Recycling-Film", in: blimp 13/1989 Garz. "Ich bin eine Piratin des Kinos. Zeitgenössische Video- und Filmemacherinnen im Gespräch." in: Sabine Perthold, Claudia Gehrke (Hrsg.), ROTE KÜSSE. Film Schau Buch. konkursbuchverlag, Tübingen 1990. Peter Tscherkassky, "Tendenze del cinema d'avanguardia - Filmavantgarde in Österreich" (ital./dt.), in: Francesco Bono (Hrsg.), Austria (in)Felix, Rom/Graz 1992. Stefan Grissemann, "Madame Infantilia", in: Die Presse, 6.11.93 Wien. Peter Mudie (Hrsg.), Below the centre, Perth/Wien 1994. Thomas Renoldner, "Animationsfilm - Im Dschungel der Kategorien", in: Austrian Film News 8/9/1994 Wien. Sixpack Film (Hrsg.), Austrian Avant-Garde Cinema1955-1993, Katalog, Wien 1994. Peter Tscherkassky, "The Light of Periphery. A brief history of Austrian Avant-Garde Cinema", in: Sixpack Film (Hrsg.), Austrian Avant-Garde Cinema 1955-1993, Katalog, Wien 1994Heike Klippel, "Starring: Mimi Minus. Die Kurzfilme von Mara Mattuschka ab 1983", in: Eva Hohenberger/Karin Jurschik, Blaue Wunder. Neue Filme und Videos von Frauen 1984-94, Hamburg 1994. Elke Schüttelkopf, "Monster", in: [sic!] 5, Dez.1994 Wien. Doris Knecht, "Je größer die Frau, desto kleiner die Welt" in: Neue Zürcher Zeitung, 15.2.1995 Zürich. Peter Tscherkassky, "Mimi Minus oder Die angewandte Chaosforschung", Essay und Interview, in: Peter Illetschko (Hrsg.), Gegenschuß. 16 Regisseure aus Österreich, Wien 1995. Christa Blümlinger, "Die Gesichter der Mara Mattuschka", in: Alexander Horwath, Lisl Ponger, Gottfried Schlemmer (Hrsg.): Avantgardefilm Österreich 1950 bis heute, Wien 1995. Brigitta Burger-Utzer, "Requisit Körper", in: VIPER 1996, KatalogCentre George Pompidou (Hrsg.), L'avant-garde autrichienne au cinéma 1955-1993. Katalog, Paris 1996.Herbert Hrachovec, "Fundstellen. Befund", in: polyfilm Verleih: Eine Geschichte der Bilder. Wien 1996Astrid F Scheuklen, "tun ist sein und nicht denken", in: polyfilm Verleih: Eine Geschichte der Bilder. Wien 1996
Bert Rebhandl zu Mara Mattuschka
Mara Mattuschkas Filme handeln nicht zuletzt von Spracherwerb und vom Haften der Wörter am Körper. Ihre frühen Kurzfilme arbeiten sich ab an der mit Descartes endgültig geschichtsmächtig gewordenen Trennung von Denken (also Begreifen, also Begriffe) und Sein. Film als elaborierteste Form des Auseinandersetzens von Ich und Welt (und als deren Wiedervereinigung im Schein) ist bei ihr gewissermaßen eine noch nicht durchtrennte "Nabelschnur".

In Kaiserschnitt werden die Buchstaben aus einer Vagina geboren, die wiederum aus einem Schnitt über ein Blatt Papier filmisch entsteht. Dann wird das Alphabet buchstabiert, bevor es ins Abstrakte verschwimmt. Kopfgeburten (in NabelFabel) gehen nicht ohne Zerstörung ab.

In Parasympathica probiert Mattuschka Begriffe (aus einem katholischen Tugendkatalog) aus, erprobt sie auf ihre Wertigkeit und ordnet ihnen filmisch Sekrete des Körpers zu: Tränen, Schweiß, Sperma, Vaginalsekret. Dazu tanzt ihr in dualen Mustern geschminkter Körper in Posen, die an archaische Götter- und Heldenbilder denken lassen.

Die Ebene der vorrationalistischen Verständigung über Allgemeines war der Mythos. Mara Mattuschka spielt mit mythischen Gehalten und ihren sexuellen Inhalten (etwa der körperlose Phallus). Ironisch verfährt sie mit dem berühmten Kaiserwort "Danke, es hat mich sehr gefreut", das im Zusammenhang mit einem Orgasmus in seiner ganzen unpassenden Formelhaftigkeit kenntlich wird. Der Untergang der Titania wiederum spielt mit dem Motiv des Nabels der Welt.

In dieser Lesart, die ergänzend beispielsweise zu psychoanalytischen gerechtfertigt scheint, könnte man sagen: Mattuschka übersetzt mythisches Material in eine Privatmythologie, in der das filmische Material zu einer Expansion des Körpers beiträgt und von ihm bestimmt scheint. (Bert Rebhandl)