Annja Krautgasser, aka: [n:ja]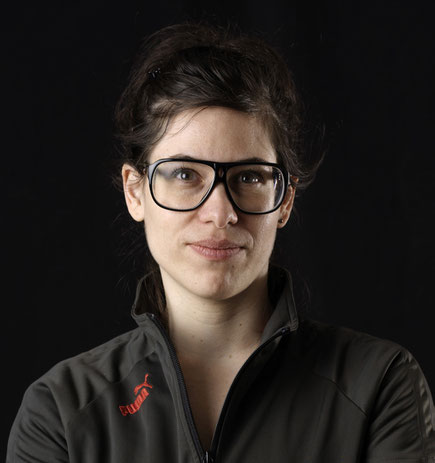 (c) Robert Fleischanderl
* 1971, Austria

Born 1971 in Hall, Tyrol. Lives und works in Vienna. Studied architecture. Studied visual media. Numerous media and video installations in Austria and internationally.
Exhibitions (Selection): Fields (Arsenals Exhibition Hall of Latvian National Arts Museum, LV-Riga), Paraphrasing Babel (Viewmaster Foundation, NL-Maastricht/Heerlen), I can't stand the quiet! (Tiroler Landesmuseum Ferdinandeum, Innsbruck 2011), Giants and mosquitoes (Salzburger Kunstverein, Kabinett, Salzburg 2011), Asymmetrical Focus (Galerie Stadtpark, Krems 2009), CINEPLEX (Secession, Wien 2009), Translation is a mode. (Kunstraum Niederösterreich, Wien 2010).
Artist-in-Residencies in London, Los Angeles (MAK Schindler), Paliano (I) and Amsterdam (NL).
Government Scholarship for Fine Art 2009. RLB art award 2010. Würlingerpreis 2010. Hildegard Goldschmidt Award 2011. Award of the City of Innsbruck 2012. Paul Flora Award 2017. 36th Austrian Competition in Graphic Design/ Award of the City of Vienna 2019. Hilde-Zach-Award 2019.

Films
Scenes of a War (2020)
Nothing to say (2019)
Dachszenen (2018)
Waldszenen (2015)
What Remains (2013)
Concentré de Répétition (2012)
Krochn (2011)
Raumnotizen (2011)
Remake: Romazo Criminale (2011)
Romanes (2010)
1-minute rendezvous (2010)
Le Madison Lesson 1-3 (2010)
Zandvoort (2009)
Fragments (2009)
Void.seqz1 (2009)
La Sagra (2008)
Beyond (2008)
Prelude (2008)
Prologue (2008)
Around and around (2007)
Vegas (2007)
Cruising Around (2006)
Void.seqz 5 (2006)
Void.seqz 3 (2005)
Horizon /1 (2005)
Frame (2002)
Track09 (2001)
Rewind (2000)
Perceptive faculty 2 (1999)