Ashley Hans Scheirl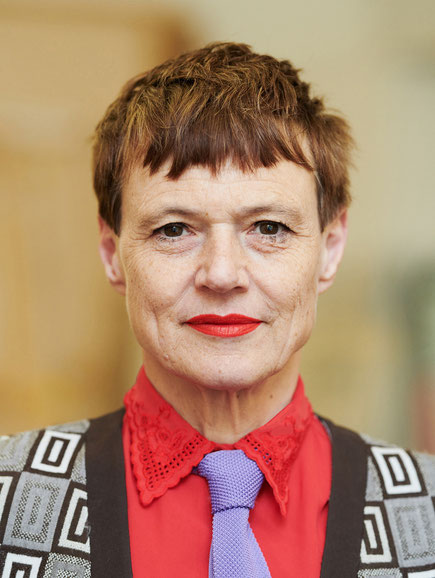 (c) Christian Benesch
* 1956, Austria

Born in Salzburg
1975-80 Academy of Fine Arts Vienna (Restauration of Art)
since 1979 Super-8 Films
1979-84 experimental music with 8 or 9
1981-82 Performances, Fluxus. Assistant to Arleen Schloss, N. Y.
since 1984 collaboration with Ursula Pürrer
1985 music-performances with Ungünstige Vorzeichen
since 1989 collaboration with Dietmar Schipek
since 1992 multimedia cybercomicsplatter-cinema Dandy Dust
Filmmaker. Artist. Transgender. Offfical name-change 1998: Angel > Hans
since 2003 painting/installations
since oct. 2006 Professor for 'Contextual Painting' at the Akademie of Fine Arts Vienna
2012 receives the "Kunstpreis der Stadt Wien" + 'The Jane Bowles Serious Elegance CHEAPy Underground Über Alles Award for Sci-fi DIY Aesthetic Innovation and Gender Creative Visionary Art'
2017 participant of documenta 14, Emst Athens + Neue Galerie Kassel
2018-2019 on residency in Berlin, DAAD Deutscher Akademischer Austauschdienst
2019 Recipient of the Austrian Art Award.
In 2022 Scheirl represented Austria at the Venice Biennale together with Jakob Lena Knebl.
"Early film practice of the 1980s and 1990s contributed significantly to the development of conceptual art in Austria by moving between the definitions of experimental film, public-space actions, performance, music, and other forms of expression related to lesbian and queer sexuality.
Her transition to painting (...) has been accompanied by a metamorphosis of her own physical appearance to one of male allure, helped by testosterone injection.
His recent accomplishment with this art medium encouraged him to emancipate one more time from his gender identification, to be called a "she" again. This time using "Ashley" (which, like "Hans," uses letters from the name given at birth: Angela Scheirl), a gender variable name." (excerpt from Pierre Bal-Blanc, Documenta 14: Daybook).




FILMOGRAPHY:

(if not mentioned otherwise: Super-8, colour, sound)

1979 STRASSENBILDER 11 min stumm MEN & MASKS 120 sec silent

1980 HANDE HOCH! 160 sec silent

1981 STRAßE II Loop, THE ASCENTION 4 min

1982 ORLANDO 3 min

1983 MUSIKFILM: DNA 2 min, JOCASTA TAUCHT AUF 5 min

1984 ANNA ALPHA NACHT 15 min, MARIA MEISTERT METALL UND ANNA ARBEITET ANSTÄNDIG (mit U. Pürrer) various films ca.60min

1985 BODY-BUILDING 7 min, DAS SCHWARZE HERZ TROPFT (BASTELANLEITUNG ZU -RINNEN) 11 min GEZACKTES RINNSAL SCHLEICHT SICH SCHAMLOS SCHENKELNÄSSEND AN 4 min, IM GARTEN DER GELBEN G. 9 min, SUPER-8 GIRL GAMES 2 min (with U. Pürrer)

1986 IM ORIGINAL FARBIG 14 min Video: U-matic (with Pürrer), SLOCKING WALKMAN 2 min Video: U-matic (mit U. Pürrer und D.Schipek)

1989 THE ABBOTESS AND THE FLYING BONE 18min 16mm (with D.Schipek and A. Escott)

1990 ACID 9 min Dancevisuals, DIE VAMPIRIN AN DER KRAFTWAGENBEDARFSTATION 35sek 35mm Spot for Rote Küsse (mit D. Schipek und U. Pürrer)

1991 ROTE OHREN FETZEN DURCH ASCHE 84min 16mm

1992- MULTI-MEDIA CYBERCOMICSPLATTER-CINEMA DANDY DUST

1993 THE SAVINGS POUCH TV-SPOT FOR FIRST SEX CHANNEL 4 1MIN

1994 DANDY DUST - THE SUPER-8 TRAILER 6MIN

1995 SUMMER OF 1995 10MIN HOME-MOVIE WITH JEWELS BARKER, DANDY DUST -THE TRAILER 11MIN
More Texts
Bibl. Scheirl A. Hans (Bibliography)
"Gezacktes Rinnsal". Gespräch mit Angela Hans Scheirl und Ursula Pürrer. in: Claudia Preschl (Hrsg.),Frauen und Film und Video. filmladen, Wien 1986. "Ich bin eine Piratin des Kinos. Zeitgenössische Video- und Filmemacherinnen im Gespräch." in: Sabine Perthold, Claudia Gehrke (Hrsg.), ROTE KÜSSE. Film Schau Buch. konkursbuchverlag, Tübingen 1990. Elke Schüttelkopf, "Blutig ist die Revolution der Liebe. Rote Ohren fetzen durch Asche". in: FrauenFilmInitiative (Hrsg.), MÖRDERINNEN IM FILM. Elefanten Press, Berlin 1992.Sixpack Film (Hrsg.), Austrian Avant-Garde Cinema 1955-1993, Katalog, Wien 1994Peter Tscherkassky, "The Light of Periphery. A brief history of Austrian Avant-Garde Cinema", in: Sixpack Film (Hrsg.), Austrian Avant-Garde Cinema 1955-1993, Katalog, Wien 1994Brigitta Burger-Utzer, "Requisit Körper", in: VIPER 1996, KatalogStefan Grissemann, "Die aquarellierten Androiden", in: Gottfried Schlemmer (Hrsg.), Der Neue Österreichische Film, Wien 1996Centre George Pompidou (Hrsg.), L'avant-garde autrichienne au cinéma 1955-1993. Katalog, Paris 1996.Graham Jones, Lucy Johnson, "Talking Pictures. Interviews with Contemporary British Film-makers, BFI, London 1997Sue Golding (Hrsg.), "The 8 Technologies of Otherness", Routledge, London 1997Rachel Armstrong (Hrsg.), "Sci-Fi Aesthetics", special edition of Art&Design, London 1997Texte von / texts by A. Hans Scheirl:"Gebrauchsanweisung für "Rinnen"-Systeme". in: Sabine Perthold (Hrsg.), ROTE KÜSSE. Film Schau Buch. konkursbuchverlag Claudia Gehrke, 1990"ein nicht ungefährliches abenteuer. nekromantik 2 von jörg buttgereit." in: FrauenFilmInitiative (Hrsg.), MÖRDERINNEN IM FILM. Elefanten Press, Berlin 1992