Perfect Garden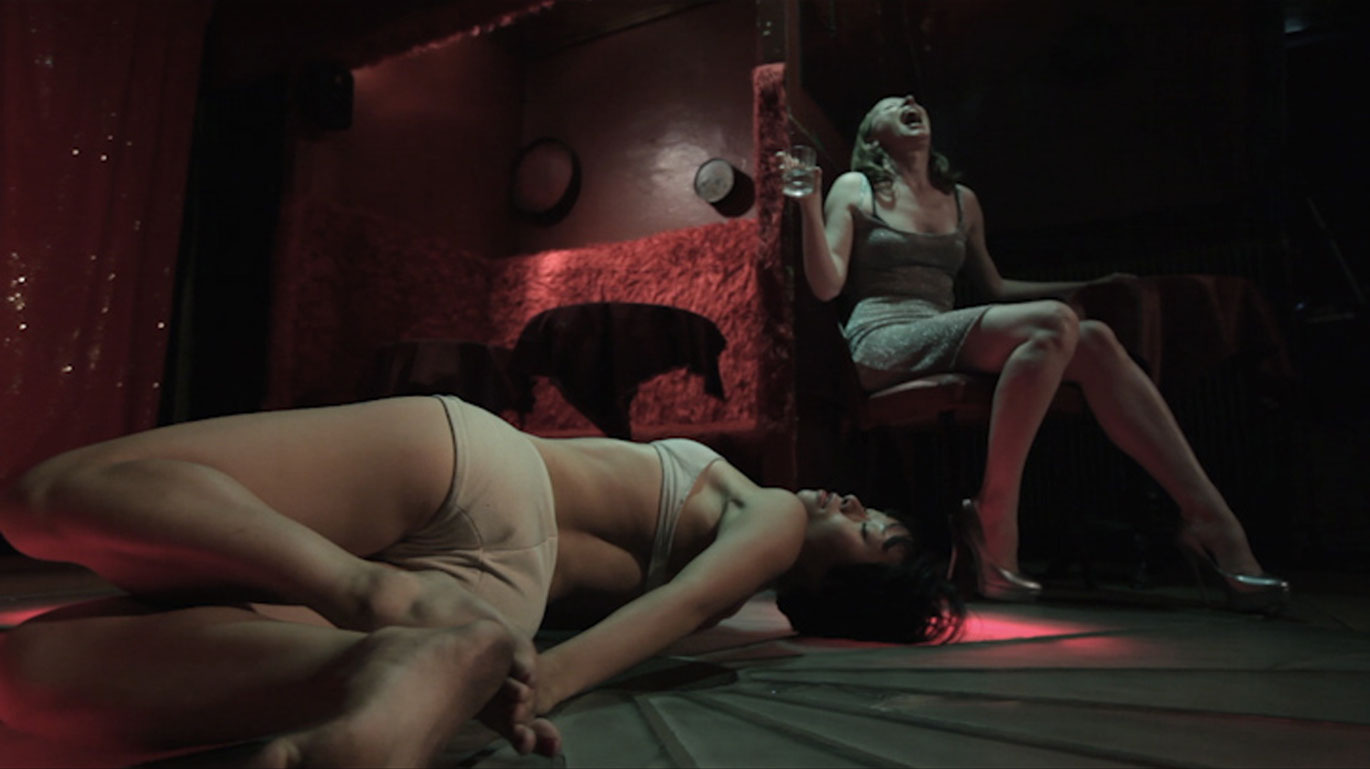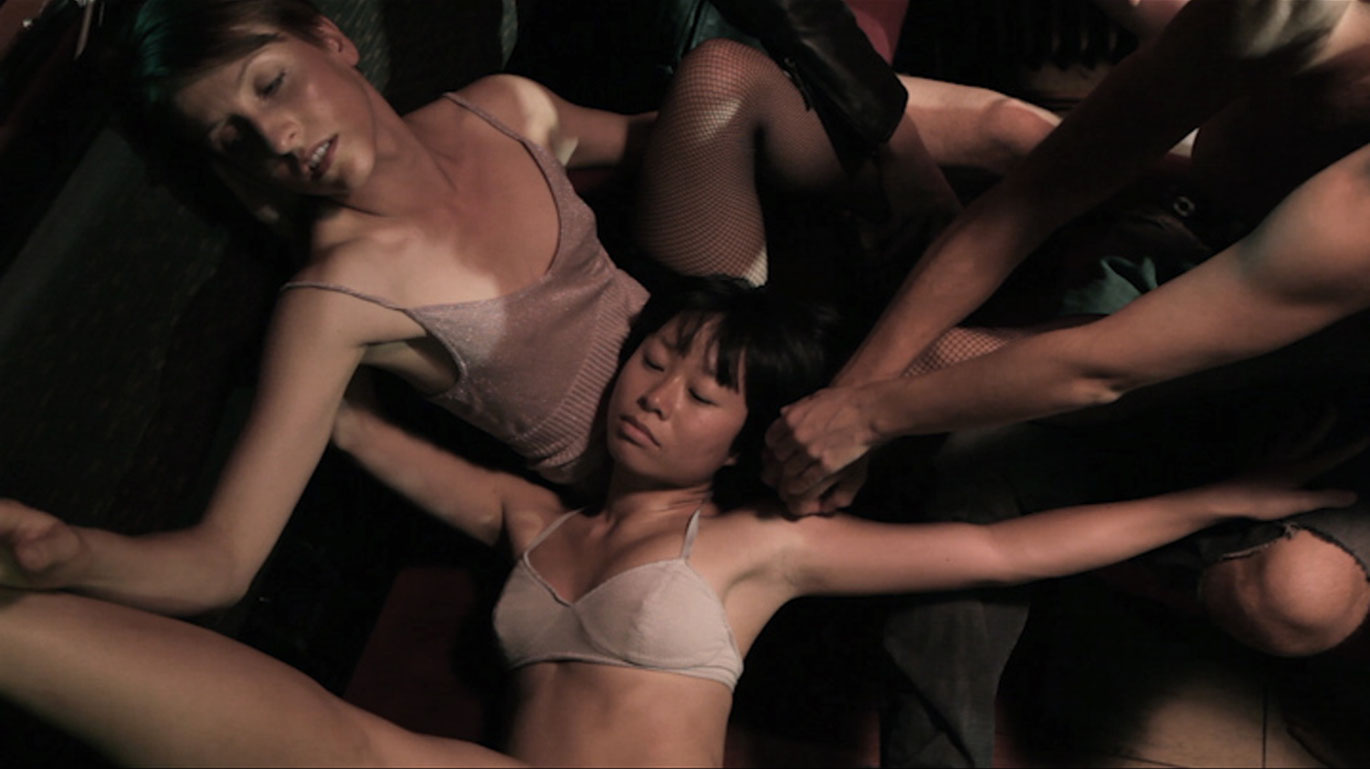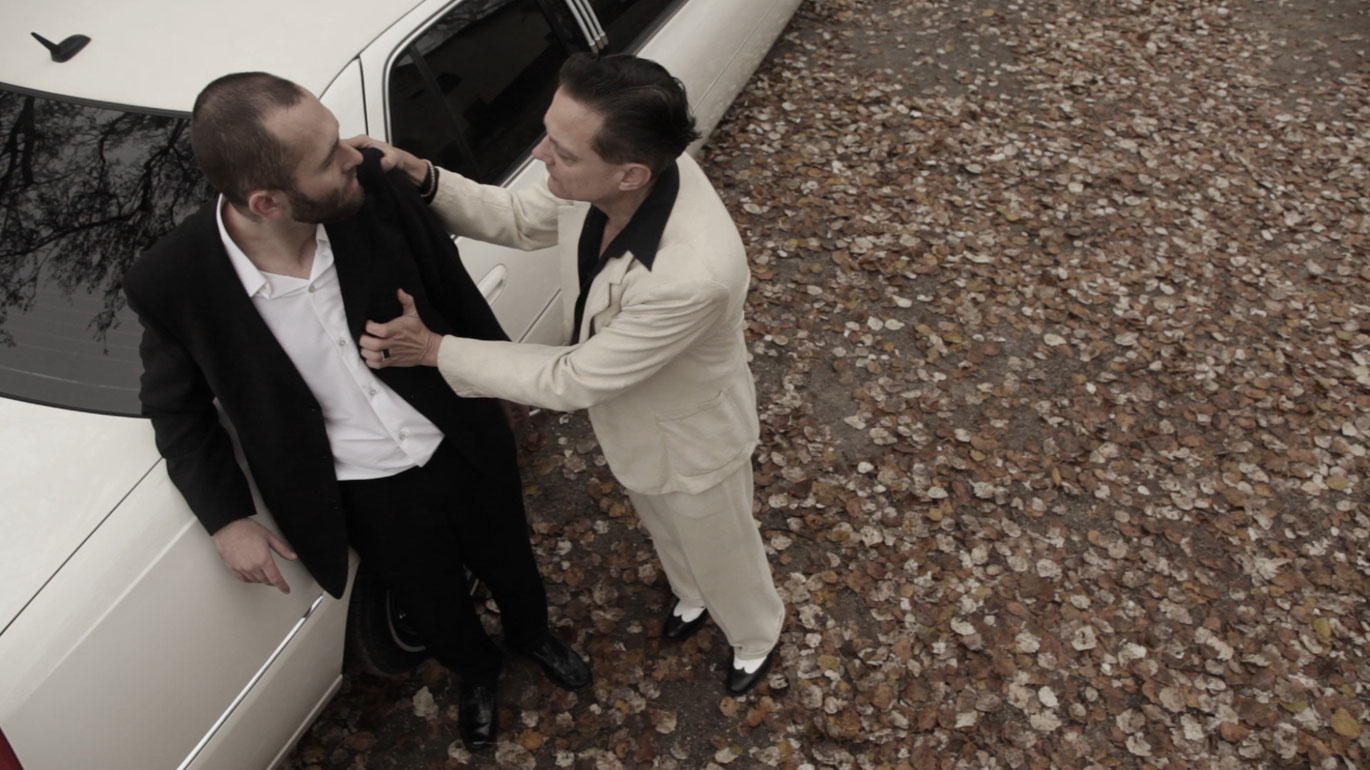 Perfect Garden

Immediately after the reported expulsion from the test garden, which the firm E.D.E.N. (Emergent Design of Evolving Nature) had set up for this prototype, these pubescent youths, who are, certainly, incredibly good looking, but also abundantly idiotic and only lightly dressed, found themselves exposed to a rather rough environment.
Awaiting there were a variety of beasts aiming to devour them: when not in flesh, then at least in the form of exploitation of their physical and sexual properties.
Thus arises this logical or evolutionary chain along the gliding signifier "P", in the English that a highly-motivated sex and dance worker from Poland is trying to learn: Penis, Pussy, Paradise, Punishment, Prostitution, Production.
Well put, sister!

And then we are back in a David Lynch-like place before the eternal red curtain that conceals the well-known void. Like on a bad trip, one arrives there through a narrow, deep-red corridor. In this innermost chamber of the heart of dashed desires, which do not want to die at this freeze-framed early morning hour, where it is always 4 a.m., and all glasses, barely emptied, fill again, under the even-tempered gaze of a reticent faun, there, he sits, the sentimental Russian Mafioso and listens to a song that sounds alarmingly like nursing. Child-like, noxious sentimental tears flow. Doesn´t anyone ever grow up here? No, definitely not. After all, time stands still here and age devours youth, and youth constantly clamors greedily for—speck (the bacon)!

(Katherina Zakravsky/ZAK RA)

Translation: Lisa Rosenblatt


In an occupied establishment – a kind of self-defined sub-cosmos of reality – there is a sensual search for lust and fulfillment taking place. Women and men dance, desire, interact; their perfectly choreographed body game becomes a symbiotic extension of an excessively hedonistic sub- conscious. Amidst it all: a mafia boss seeks to take control of the establishment and finds the meaning of life in the process. Perfect Garden is a fabulously hypnotic film, utopian and realistic all at once.

(Diagonale Catalogue)


A lyrical, joyful marriage between min.d and body, dramaturgy and choreography, the real and the fantastic. Men and women dance and desire uncontrollably at Perfect Garden, which rather than a bar is an Utopian institution where hedonism is more of a reality than an ideology. Perfect Garden is a hypnotic art film in which dancer and choreographer Chris Haring joins forces with filmmaker and performance artist Mara Mattuschka. Their hedonistic and utopian world filled with beautiful idiots is portrayed with inventive stylization: original camera angles, jerky or slomo images and distorted voices.

(International Film Festival Rotterdam)
More Texts
Eine Droge auf die man sich einlassen muss (Critique)
Eine Filmkritik von Veronika Beringer in: "Passagen" zu Perfect Garden, Regie: Mara Mattuschka und Chris Haring, AT 2013.


"Ein Film wie eine Droge, auf die man sich einlassen muss. Wenn man dies nicht tut, könnte man in einen Horrortrip geraten." Mit diesen einleitenden Worten von Mara Mattuschka beginnt die zweite Vorführung von Perfect Garden im Rahmen der Diagonale 2013 in Graz.

Mit Perfect Garden hat Mara Mattuschka in Zusammenarbeit mit Chris Haring und Liquid Loft ein überaus sinnliches und hypnotisierendes Filmerlebnis kreiert. Denn durch die Verschmelzung von dynamischem Ausdruckstanz, tiefgründigen Sprachassoziationsketten und einer Mafia-Zuhälter-Geschichte wird der Zuschauer regelrecht in die Welt eines äußerst ungewöhnlichen Bordells entführt.

"Skin on grass. The blades tickle. And torment is distracting me from surrendering completely. The sweet smell of honey suckle is drawing me closer to the drifting blue sky. […]" Dieses Gedicht erzählt der am Tresen sitzende Besucher eines Bordells mit britischem Akzent der hinter der Bar stehenden Frau. Daraufhin beginnt diese lauthals zu lachen und kann sich vor lauter Lachen kaum noch gerade halten. Die Kluft zwischen Kitsch und Komik, Schmerz und Ernst sowie Natur und Zivilisation kommt in Perfect Garden in einer perfekt choreographierten Sprach-Tanz-Rhythmik zum Tragen. Selbst die anfangs irrtierende, kitschig und billig wirkende rotleuchtende sowie kursiv-gesetzte Premiere-Glow-Schrift, die den Filmtitel sowie die FilmemacherInnen ankündigt, passt schmerzhafterweise zur Gesamtoptik des Films.

Vier Frauen und ein Mann leben in einem Puff, das sich in einer verlassenen und trostlosen Gegend an der Donau befindet und die blass-rosarote Aufschrift "Perfect Garden" trägt. In diesem Etablissement arbeiten die Bewohner sowie die sporadischen Gäste nach dem Lustprinzip. Sie begegnen sich auf einer sinnlichen Ebene und kommunizieren vorwiegend mit ihren Körpern. Durch Wiederholungen und sprachlichen Impulsketten entwickelt sich ein ästhetischer Tanz- und Sprach-Rhythmus, der Perfect Garden eine faszinierende Eigendynamik verleiht. Diese Rhythmik erhält durch den Gangster-Gitarren-Blues-Soundtrack, der an einen Tarantino Film erinnert, eine düstere und trübe Note. Auch die sprachliche Vielfalt – von British English, American English und Russischem Akzent zu Schweizerdeutsch – verdeutlicht die Wichtigkeit der Sprache, ihres Ausdrucks und ihrer Verbalisierung in Perfect Garden.

Von Geldgier getrieben verschlägt es einen russischen Mafiaboss und seine Handlanger in jene Kneipe. Als ob sie von einem Tunnel in eine andere Welt aufgesogen würden, kämpfen sich die Mafiosi durch den Gang des Bordells, der die unsichtbaren Wünsche und Gelüste seiner Eindringlinge zu flüstern scheint und so wirkt, als unterläge er nicht den gewöhnlichen Naturgesetzen. Alkoholisiert, neugierig und von Trieben gesteuert, versucht der Mafiaboss mit den vier Frauen einen Deal auszuhandeln, es wird ihm allerdings mit einer Anti-Show entgegnet. Dieser Moment, in dem die Frau die Bühne des Bordells betritt, das Mikrofon in die Hand nimmt und anstelle zu singen wie ein kleines Baby ihren tiefsten Kummer und Schmerz aus der Seele schreit, lässt einen kalten Schauer über den Rücken laufen.

Parallel dazu irrt eine verwilderte Frau durch die umliegenden Büsche und beobachtet die Bewohner und Gäste des Bordells. Diese in Fell gekleidete Frau erzählt in Hochgeschwindigkeit ihre Gedanken über die Natur als Maschine und der Perfektion dieser Maschine. "I´m part of this machine. I´m part of nature machine […] I become part of this machine. […] They try to have this huge power between their legs. But I have my own power between my legs, because I´m part of nature. […] I´m part of this beautiful machine, that works. […]"

Mara Mattuschka hat für den Film Perfect Garden der gleichnamigen Performance-Reihe von Chris Haring und Michel Blazy, die unter anderem im Tanzquartier und Odeon Theater in Wien aufgeführt wurde, ein Narrativ hinzugefügt. Mara Mattuschka zufolge wurde in etwa ein Drittel des Films aus dem Tanzstück übernommen, ein weiteres Drittel wurde für den Film in Zusammenarbeit mit der Tanzgruppe Liquid Loft und Chris Haring neu erarbeitet sowie teilweise von den Tänzer improvisiert,das letzte Drittel setzt sich aus Mattuschkas Erzählung zusammen. Dieses Narrativ ist relativ trivial und naiv – wie auch Mattuschka selbst betont – jedoch ergibt sich durch die Verbindung der ostentativen und rhythmischen Elemente eine gelungene und innovative Gesamtkomposition. Wenn man allerdings das Glück hatte, die Tanzperformance Perfect Garden gesehen zu haben, wird einem klar, dass die Höhepunkte des Films eindeutig dem Tanzstück entnommen wurden.
Orig. Title
Perfect Garden
Year
2013
Country
Austria
Duration
80 min
Category
performance
Orig. Language
Various